---
Contents
Welcome to Newtown Rapid Transit's website. Our site has been optimised for use on all web browsers, including those intended for blind and partially sighted people. Please report any difficulties with your browser to jack@newtransit.co.uk.
The map and list are linked to full information about every station.
The fares and service times quoted on this page are effective from Monday 25th August 1997 until further notice.
---
We operate a frequent service of modern, clean and comfortable electric trains to all parts of Newtown. Our system runs every day of the year. On bank and public holidays we offer either a Saturday or Sunday service, as follows:
Sunday Service: Good Friday, Christmas Day
Saturday Service: All other holidays
All our stations and trains have full access for disabled people, and wheelchairs are available free of charge upon request. All our stations are manned and our staff will be happy to help any traveller experiencing difficulty.
---
We operate a single flat-fare system, our standard fare (£1.00) being half the Town Centre one-hour car parking charge.
For the frequent traveller we offer discount travelcards for periods ranging from one day to one year, which are also available for use on all local bus services for journeys wholly within the Newtown boundaries. We also accept valid main line rail tickets for journeys between Lime Station interchange and any other station on our system. With the exception of the Day Travelcard, travelcards for longer periods require a photocard - just present a passport sized photograph when buying your ticket. Three-monthly (£90.00) and Annual (£200.00) Travelcards are available from our offices at 200 Lime Walk, adjacent to the railway station.
Coin operated ticket dispensers are provided at all stations, for single (£1.00) and day travelcard tickets (£2.00). Day, Weekly (£10.00) and Monthly (£30.00) Travelcards are available from shops and newsagents displaying our logo, and the main line railway travel centre at Lime.
---
Selecting a station from this map, or from the list below it will take you to more information about the services we operate from that point. If you require any further information, please call us on +44 (0) 1234 567 8910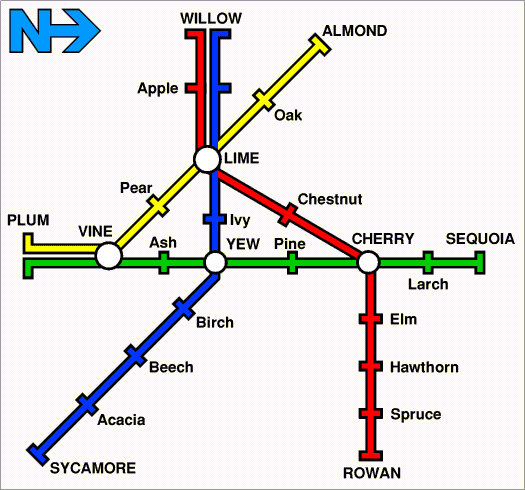 [Map of Stations] [Top of List] [Top of Page]
---
Station Information
Key:

Blue Line

Red Line

Yellow Line

Green Line
---
Trains operate as follows:
Monday to Friday
Early Mornings from 0530, and Evenings after 2000: every 10 minutes
Off Peak: every 5 minutes
Peak Hours: (0745-0915, 1630-1830) every 3 minutes
First Train to Town Centre: 0530
Last Train to Town Centre: 0015
Saturday
Early Mornings from 0530 until 0715, and Evenings after 2200: every 10 minutes
0715 - 2200: every 5 minutes
First Train to Town Centre: 0530
Last Train to Town Centre: 0015
Sunday
Early Mornings from 0630 until 0915, and Evenings after 1900: every 10 minutes
0915 - 1900: every 5 minutes
First Train to Town Centre: 0630
Last Train to Town Centre: 0015
Journey time to Town Centre (YEW) 9 Mins
Free Car Parking

[Map of Stations] [List of Stations] [Top of Page]
---
Trains operate as follows:
Monday to Friday
Early Mornings from 0530, and Evenings after 2000: every 10 minutes
Off Peak: every 5 minutes
Peak Hours: (0745-0915, 1630-1830) every 3 minutes
First Train to Town Centre: 0530
Last Train to Town Centre: 0015
Saturday
Early Mornings from 0530 until 0715, and Evenings after 2200: every 10 minutes
0715 - 2200: every 5 minutes
First Train to Town Centre: 0530
Last Train to Town Centre: 0015
Sunday
Early Mornings from 0630 until 0915, and Evenings after 1900: every 10 minutes
0915 - 1900: every 5 minutes
First Train to Town Centre: 0630
Last Train to Town Centre: 0015
Journey time to Town Centre (LIME) 9 Mins
Free Car Parking

[Map of Stations] [List of Stations] [Top of Page]
---
Journey time to Town Centre (LIME) 3 Mins

Trains operate on each line as follows:
Monday to Friday
Early Mornings from 0530, and Evenings after 2000: every 10 minutes
Off Peak: every 5 minutes
Peak Hours: (0745-0915, 1630-1830) every 3 minutes
First Train to Town Centre: 0530
Last Train to Town Centre: 0015
Saturday
Early Mornings from 0530 until 0715, and Evenings after 2200: every 10 minutes
0715 - 2200: every 5 minutes
First Train to Town Centre: 0530
Last Train to Town Centre: 0015
Sunday
Early Mornings from 0630 until 0915, and Evenings after 1900: every 10 minutes
0915 - 1900: every 5 minutes
First Train to Town Centre: 0630
Last Train to Town Centre: 0015
[Map of Stations] [List of Stations] [Top of Page]
---
Journey time to Town Centre (YEW) 3 Mins

Trains operate as follows:
Monday to Friday
Early Mornings from 0530, and Evenings after 2000: every 10 minutes
Off Peak: every 5 minutes
Peak Hours: (0745-0915, 1630-1830) every 3 minutes
First Train to Town Centre: 0530
Last Train to Town Centre: 0015
Saturday
Early Mornings from 0530 until 0715, and Evenings after 2200: every 10 minutes
0715 - 2200: every 5 minutes
First Train to Town Centre: 0530
Last Train to Town Centre: 0015
Sunday
Early Mornings from 0630 until 0915, and Evenings after 1900: every 10 minutes
0915 - 1900: every 5 minutes
First Train to Town Centre: 0630
Last Train to Town Centre: 0015
[Map of Stations] [List of Stations] [Top of Page]
---
Journey time to Town Centre (YEW) 6 Mins
Free Car Parking

Trains operate as follows:
Monday to Friday
Early Mornings from 0530, and Evenings after 2000: every 10 minutes
Off Peak: every 5 minutes
Peak Hours: (0745-0915, 1630-1830) every 3 minutes
First Train to Town Centre: 0530
Last Train to Town Centre: 0015
Saturday
Early Mornings from 0530 until 0715, and Evenings after 2200: every 10 minutes
0715 - 2200: every 5 minutes
First Train to Town Centre: 0530
Last Train to Town Centre: 0015
Sunday
Early Mornings from 0630 until 0915, and Evenings after 1900: every 10 minutes
0915 - 1900: every 5 minutes
First Train to Town Centre: 0630
Last Train to Town Centre: 0015
[Map of Stations] [List of Stations] [Top of Page]
---
Journey time to Town Centre (YEW) 3 Mins
Free Car Parking

Trains operate as follows:
Monday to Friday
Early Mornings from 0530, and Evenings after 2000: every 10 minutes
Off Peak: every 5 minutes
Peak Hours: (0745-0915, 1630-1830) every 3 minutes
First Train to Town Centre: 0530
Last Train to Town Centre: 0015
Saturday
Early Mornings from 0530 until 0715, and Evenings after 2200: every 10 minutes
0715 - 2200: every 5 minutes
First Train to Town Centre: 0530
Last Train to Town Centre: 0015
Sunday
Early Mornings from 0630 until 0915, and Evenings after 1900: every 10 minutes
0915 - 1900: every 5 minutes
First Train to Town Centre: 0630
Last Train to Town Centre: 0015
[Map of Stations] [List of Stations] [Top of Page]
---
Journey time to Town Centre (YEW) 3 Mins
Journey time to Town Centre (LIME) 3 Mins

Trains operate on each line as follows:
Monday to Friday
Early Mornings from 0530, and Evenings after 2000: every 10 minutes
Off Peak: every 5 minutes
Peak Hours: (0745-0915, 1630-1830) every 3 minutes
First Train to Town Centre: 0530
Last Train to Town Centre: 0015
Saturday
Early Mornings from 0530 until 0715, and Evenings after 2200: every 10 minutes
0715 - 2200: every 5 minutes
First Train to Town Centre: 0530
Last Train to Town Centre: 0015
Sunday
Early Mornings from 0630 until 0915, and Evenings after 1900: every 10 minutes
0915 - 1900: every 5 minutes
First Train to Town Centre: 0630
Last Train to Town Centre: 0015
[Map of Stations] [List of Stations] [Top of Page]
---
Journey time to Town Centre (LIME) 3 Mins


Trains operate as follows:
Monday to Friday
Early Mornings from 0530, and Evenings after 2000: every 10 minutes
Off Peak: every 5 minutes
Peak Hours: (0745-0915, 1630-1830) every 3 minutes
First Train to Town Centre: 0530
Last Train to Town Centre: 0015

Saturday
Early Mornings from 0530 until 0715, and Evenings after 2200: every 10 minutes
0715 - 2200: every 5 minutes
First Train to Town Centre: 0530
Last Train to Town Centre: 0015

Sunday
Early Mornings from 0630 until 0915, and Evenings after 1900: every 10 minutes
0915 - 1900: every 5 minutes
First Train to Town Centre: 0630
Last Train to Town Centre: 0015

[Map of Stations] [List of Stations] [Top of Page]
---
Journey time to Town Centre (LIME) 9 Mins
Free Car Parking

Trains operate as follows:
Monday to Friday
Early Mornings from 0530, and Evenings after 2000: every 10 minutes
Off Peak: every 5 minutes
Peak Hours: (0745-0915, 1630-1830) every 3 minutes
First Train to Town Centre: 0530
Last Train to Town Centre: 0015
Saturday
Early Mornings from 0530 until 0715, and Evenings after 2200: every 10 minutes
0715 - 2200: every 5 minutes
First Train to Town Centre: 0530
Last Train to Town Centre: 0015
Sunday
Early Mornings from 0630 until 0915, and Evenings after 1900: every 10 minutes
0915 - 1900: every 5 minutes
First Train to Town Centre: 0630
Last Train to Town Centre: 0015
[Map of Stations] [List of Stations] [Top of Page]
---
Journey time to Town Centre (LIME) 12 Mins
Free Car Parking

Trains operate as follows:
Monday to Friday
Early Mornings from 0530, and Evenings after 2000: every 10 minutes
Off Peak: every 5 minutes
Peak Hours: (0745-0915, 1630-1830) every 3 minutes
First Train to Town Centre: 0530
Last Train to Town Centre: 0015
Saturday
Early Mornings from 0530 until 0715, and Evenings after 2200: every 10 minutes
0715 - 2200: every 5 minutes
First Train to Town Centre: 0530
Last Train to Town Centre: 0015
Sunday
Early Mornings from 0630 until 0915, and Evenings after 1900: every 10 minutes
0915 - 1900: every 5 minutes
First Train to Town Centre: 0630
Last Train to Town Centre: 0015
[Map of Stations] [List of Stations] [Top of Page]
---
Journey time to Town Centre (YEW) 3 Mins
Journey time to Town Centre (LIME) 3 Mins

Trains operate as follows:
Monday to Friday
Early Mornings from 0530, and Evenings after 2000: every 10 minutes
Off Peak: every 5 minutes
Peak Hours: (0745-0915, 1630-1830) every 3 minutes
First Train to Town Centre: 0530
Last Train to Town Centre: 0015
Saturday
Early Mornings from 0530 until 0715, and Evenings after 2200: every 10 minutes
0715 - 2200: every 5 minutes
First Train to Town Centre: 0530
Last Train to Town Centre: 0015
Sunday
Early Mornings from 0630 until 0915, and Evenings after 1900: every 10 minutes
0915 - 1900: every 5 minutes
First Train to Town Centre: 0630
Last Train to Town Centre: 0015
[Map of Stations] [List of Stations] [Top of Page]
---
Journey time to Town Centre (YEW) 9 Mins
Free Car Parking

Trains operate as follows:
Monday to Friday
Early Mornings from 0530, and Evenings after 2000: every 10 minutes
Off Peak: every 5 minutes
Peak Hours: (0745-0915, 1630-1830) every 3 minutes
First Train to Town Centre: 0530
Last Train to Town Centre: 0015
Saturday
Early Mornings from 0530 until 0715, and Evenings after 2200: every 10 minutes
0715 - 2200: every 5 minutes
First Train to Town Centre: 0530
Last Train to Town Centre: 0015
Sunday
Early Mornings from 0630 until 0915, and Evenings after 1900: every 10 minutes
0915 - 1900: every 5 minutes
First Train to Town Centre: 0630
Last Train to Town Centre: 0015
[Map of Stations] [List of Stations] [Top of Page]
---
Interchange with Main Line Railway

Trains operate on each line as follows:
Monday to Friday
Early Mornings from 0530, and Evenings after 2000: every 10 minutes
Off Peak: every 5 minutes
Peak Hours: (0745-0915, 1630-1830) every 3 minutes
First Train (all lines/directions): 0530
Last Train (all lines/directions): 0015
Saturday
Early Mornings from 0530 until 0715, and Evenings after 2200: every 10 minutes
0715 - 2200: every 5 minutes
First Train (all lines/directions): 0530
Last Train (all lines/directions): 0015
Sunday
Early Mornings from 0630 until 0915, and Evenings after 1900: every 10 minutes
0915 - 1900: every 5 minutes
First Train (all lines/directions): 0630
Last Train (all lines/directions): 0015
[Map of Stations] [List of Stations] [Top of Page]
---
Journey time to Town Centre (LIME) 3 Mins

Trains operate as follows:
Monday to Friday
Early Mornings from 0530, and Evenings after 2000: every 10 minutes
Off Peak: every 5 minutes
Peak Hours: (0745-0915, 1630-1830) every 3 minutes
First Train to Town Centre: 0530
Last Train to Town Centre: 0015
Saturday
Early Mornings from 0530 until 0715, and Evenings after 2200: every 10 minutes
0715 - 2200: every 5 minutes
First Train to Town Centre: 0530
Last Train to Town Centre: 0015
Sunday
Early Mornings from 0630 until 0915, and Evenings after 1900: every 10 minutes
0915 - 1900: every 5 minutes
First Train to Town Centre: 0630
Last Train to Town Centre: 0015
[Map of Stations] [List of Stations] [Top of Page]
---
Journey time to Town Centre (LIME) 3 Mins

Trains operate as follows:
Monday to Friday
Early Mornings from 0530, and Evenings after 2000: every 10 minutes
Off Peak: every 5 minutes
Peak Hours: (0745-0915, 1630-1830) every 3 minutes
First Train to Town Centre: 0530
Last Train to Town Centre: 0015
Saturday
Early Mornings from 0530 until 0715, and Evenings after 2200: every 10 minutes
0715 - 2200: every 5 minutes
First Train to Town Centre: 0530
Last Train to Town Centre: 0015
Sunday
Early Mornings from 0630 until 0915, and Evenings after 1900: every 10 minutes
0915 - 1900: every 5 minutes
First Train to Town Centre: 0630
Last Train to Town Centre: 0015
[Map of Stations] [List of Stations] [Top of Page]
---
Journey time to Town Centre (YEW) 3 Mins

Trains operate as follows:
Monday to Friday
Early Mornings from 0530, and Evenings after 2000: every 10 minutes
Off Peak: every 5 minutes
Peak Hours: (0745-0915, 1630-1830) every 3 minutes
First Train to Town Centre: 0530
Last Train to Town Centre: 0015
Saturday
Early Mornings from 0530 until 0715, and Evenings after 2200: every 10 minutes
0715 - 2200: every 5 minutes
First Train to Town Centre: 0530
Last Train to Town Centre: 0015
Sunday
Early Mornings from 0630 until 0915, and Evenings after 1900: every 10 minutes
0915 - 1900: every 5 minutes
First Train to Town Centre: 0630
Last Train to Town Centre: 0015
[Map of Stations] [List of Stations] [Top of Page]
---
Journey time to Town Centre (YEW) 9 Mins
Journey time to Town Centre (LIME) 9 Mins
Free Car Parking

Trains operate on each line as follows:
Monday to Friday
Early Mornings from 0530, and Evenings after 2000: every 10 minutes
Off Peak: every 5 minutes
Peak Hours: (0745-0915, 1630-1830) every 3 minutes
First Train to Town Centre: 0530
Last Train to Town Centre: 0015
Saturday
Early Mornings from 0530 until 0715, and Evenings after 2200: every 10 minutes
0715 - 2200: every 5 minutes
First Train to Town Centre: 0530
Last Train to Town Centre: 0015
Sunday
Early Mornings from 0630 until 0915, and Evenings after 1900: every 10 minutes
0915 - 1900: every 5 minutes
First Train to Town Centre: 0630
Last Train to Town Centre: 0015
[Map of Stations] [List of Stations] [Top of Page]
---
Journey time to Town Centre (LIME) 18 Mins
Free Car Parking

Trains operate as follows:
Monday to Friday
Early Mornings from 0530, and Evenings after 2000: every 10 minutes
Off Peak: every 5 minutes
Peak Hours: (0745-0915, 1630-1830) every 3 minutes
First Train to Town Centre: 0530
Last Train to Town Centre: 0015
Saturday
Early Mornings from 0530 until 0715, and Evenings after 2200: every 10 minutes
0715 - 2200: every 5 minutes
First Train to Town Centre: 0530
Last Train to Town Centre: 0015
Sunday
Early Mornings from 0630 until 0915, and Evenings after 1900: every 10 minutes
0915 - 1900: every 5 minutes
First Train to Town Centre: 0630
Last Train to Town Centre: 0015
[Map of Stations] [List of Stations] [Top of Page]
---
Journey time to Town Centre (YEW) 12 Mins
Free Car Parking

Trains operate as follows:
Monday to Friday
Early Mornings from 0530, and Evenings after 2000: every 10 minutes
Off Peak: every 5 minutes
Peak Hours: (0745-0915, 1630-1830) every 3 minutes
First Train to Town Centre: 0530
Last Train to Town Centre: 0015
Saturday
Early Mornings from 0530 until 0715, and Evenings after 2200: every 10 minutes
0715 - 2200: every 5 minutes
First Train to Town Centre: 0530
Last Train to Town Centre: 0015
Sunday
Early Mornings from 0630 until 0915, and Evenings after 1900: every 10 minutes
0915 - 1900: every 5 minutes
First Train to Town Centre: 0630
Last Train to Town Centre: 0015
[Map of Stations] [List of Stations] [Top of Page]
---
Journey time to Town Centre (LIME) 15 Mins
Free Car Parking

Trains operate as follows:
Monday to Friday
Early Mornings from 0530, and Evenings after 2000: every 10 minutes
Off Peak: every 5 minutes
Peak Hours: (0745-0915, 1630-1830) every 3 minutes
First Train to Town Centre: 0530
Last Train to Town Centre: 0015
Saturday
Early Mornings from 0530 until 0715, and Evenings after 2200: every 10 minutes
0715 - 2200: every 5 minutes
First Train to Town Centre: 0530
Last Train to Town Centre: 0015
Sunday
Early Mornings from 0630 until 0915, and Evenings after 1900: every 10 minutes
0915 - 1900: every 5 minutes
First Train to Town Centre: 0630
Last Train to Town Centre: 0015
[Map of Stations] [List of Stations] [Top of Page]
---
Journey time to Town Centre (YEW) 12 Mins
Free Car Parking

Trains operate as follows:
Monday to Friday
Early Mornings from 0530, and Evenings after 2000: every 10 minutes
Off Peak: every 5 minutes
Peak Hours: (0745-0915, 1630-1830) every 3 minutes
First Train to Town Centre: 0530
Last Train to Town Centre: 0015
Saturday
Early Mornings from 0530 until 0715, and Evenings after 2200: every 10 minutes
0715 - 2200: every 5 minutes
First Train to Town Centre: 0530
Last Train to Town Centre: 0015
Sunday
Early Mornings from 0630 until 0915, and Evenings after 1900: every 10 minutes
0915 - 1900: every 5 minutes
First Train to Town Centre: 0630
Last Train to Town Centre: 0015
[Map of Stations] [List of Stations] [Top of Page]
---
Journey time to Town Centre (YEW) 6 Mins
Journey time to Town Centre (LIME) 6 Mins

Trains operate on each line as follows:
Monday to Friday
Early Mornings from 0530, and Evenings after 2000: every 10 minutes
Off Peak: every 5 minutes
Peak Hours: (0745-0915, 1630-1830) every 3 minutes
First Train to Town Centre: 0530
Last Train to Town Centre: 0015
Saturday
Early Mornings from 0530 until 0715, and Evenings after 2200: every 10 minutes
0715 - 2200: every 5 minutes
First Train to Town Centre: 0530
Last Train to Town Centre: 0015
Sunday
Early Mornings from 0630 until 0915, and Evenings after 1900: every 10 minutes
0915 - 1900: every 5 minutes
First Train to Town Centre: 0630
Last Train to Town Centre: 0015
[Map of Stations] [List of Stations] [Top of Page]
---
Journey time to Town Centre (LIME) 6 Mins
Free Car Parking


Trains operate on each line as follows:
Monday to Friday
Early Mornings from 0530, and Evenings after 2000: every 10 minutes
Off Peak: every 5 minutes
Peak Hours: (0745-0915, 1630-1830) every 3 minutes
First Train to Town Centre: 0530
Last Train to Town Centre: 0015

Saturday
Early Mornings from 0530 until 0715, and Evenings after 2200: every 10 minutes
0715 - 2200: every 5 minutes
First Train to Town Centre: 0530
Last Train to Town Centre: 0015

Sunday
Early Mornings from 0630 until 0915, and Evenings after 1900: every 10 minutes
0915 - 1900: every 5 minutes
First Train to Town Centre: 0630
Last Train to Town Centre: 0015

[Map of Stations] [List of Stations] [Top of Page]
---
For Town Centre Shops and Business District

Trains operate on each line as follows:
Monday to Friday
Early Mornings from 0530, and Evenings after 2000: every 10 minutes
Off Peak: every 5 minutes
Peak Hours: (0745-0915, 1630-1830) every 3 minutes
First Train (all lines/directions): 0530
Last Train (all lines/directions): 0015
Saturday
Early Mornings from 0530 until 0715, and Evenings after 2200: every 10 minutes
0715 - 2200: every 5 minutes
First Train (all lines/directions): 0530
Last Train (all lines/directions): 0015
Sunday
Early Mornings from 0630 until 0915, and Evenings after 1900: every 10 minutes
0915 - 1900: every 5 minutes
First Train (all lines/directions): 0630
Last Train (all lines/directions): 0015
[Map of Stations] [List of Stations] [Top of Page]
---

Contents
---
© 1997 A.J. Flavell and I.W. Logan. Last updated: 03 Sep 97 at 1645BST