Lawrence Fallon's Fine Art Prints
---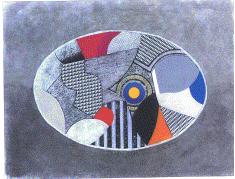 Textile Oval (42k)

Lozenge Window (29k)
These are reduced size versions of Cibachrome prints by local artist Lawrence Fallon. Each image is linked to a larger version.
Lawrence has exhibited his work nationally. At present prints are limiited to 200 editions of each. His folio comprises approximately 40 works. All prints are supplied framed and mounted, approximately 10x12 inches. Each print costs £75.00 post free UK Only.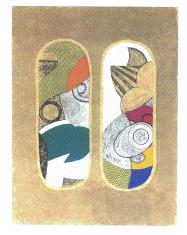 Synchronised Image (37k)

Earthtides (31k)

Lawrence Fallon can be contacted at:

17 Elm Court,
Hawick,
Roxburghshire,
Scotland
TD9 9LG
Tel: +44 (0)1450 379190

or via email.

Images (scanned by Doug Harkness and Iain Logan) are © 1997-9 Lawrence Fallon. These images must not be reproduced or distributed commercially.
---

Electric Soup © I.W.Logan MCIT 1998-9. Last updated: 18 Jan 99 at 1855GMT.