---
This simulation attempts as accurately as possible to depict this line as it was in 1952, four years into Nationalisation. It was opened by the North British Railway in 1849 as far as Hawick, and extended to Carlisle in 1862. It became part of the London and North Eastern Railway in 1923, and British Railways in 1948.
The line was called the 'Waverley Route' because it runs through the countryside immortalised by Sir Walter Scott and his 'Waverley' novels.
Apart from a small power resignalling scheme installed at Galashiels in 1936, and a few other minor changes made to reflect changing traffic requirements, the line and its branches remained in essence a nineteenth century railway up to its final closure in January 1969.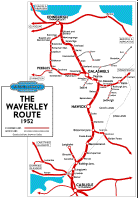 Waverley Route Map (50k)
This is a map of the Waverley Route done by me in the style of the time. There's also a newer PDF version of this map in my BAHN simulation.
---
THE WAVERLEY ROUTE 1952 (a BAHN340 Simulation)
---
Carlisle (England) to Edinburgh (Scotland) via Galashiels, and Branches.
As with my GSE1 simulation, I have tried to capture the atmosphere of the line in this layout. It's a very different railway - no regular interval passenger services, lots of freight, and an interesting network of lines.
Route Mileages of simulation (from Working Time Table):

Edinburgh - Carlisle                         98 miles  330 yards
Hardengreen Jn. - Peebles - Kilnknowe Jn.    36 miles  506 yards 
Peebles East - Peebles West                   0 miles 1386 yards
Fountainhall - Lauder                        10 miles  726 yards
Selkirk Jn. - Selkirk                         6 miles  264 yards
Kelso Jn. - Carham                           16 miles  264 yards
Roxburgh Jn. - Jedburgh                       7 miles  176 yards
Riccarton Jn. - Kielder Forest                8 miles  440 yards
Riddings Jn. - Langholm                       7 miles  176 yards
Longtown Jn. - Gretna NB                      3 miles  374 yards

TOTAL ROUTE MILEAGE                         193 miles 1122 yards

APPROXIMATE TRACK MILEAGE                   350 miles

The train service is fairly prototypical, and I've managed to squeeze in all of the 1952 WTT trains, and the sample I've checked run reasonably well to time. I've also had to put a few extra, balancing services. There just aren't enough spare hours to get things absolutely right.
Because of the size of the simulation, most of the station layouts are simplified.
Once again I have also had to resort to a number of dodges to make the simulation work, which include:
Non-prototype loops and turnbacks at terminals.
Speed limited running loops instead of refuge sidings, to allow passenger trains to pass the much slower freights. Note how I have used the signalling system to allow this to work.
Active yards. Note how certain freights shunt some of the yards en route (St. Boswells and Stobs Camp 'Up' direction, and Hawick 'Down' Direction). Alternating switches were used here.
I've put together some hints and tips for BAHN320 and BAHN which explain some of the techniques used.
In addition, I have added 'dummy' services on the West Coast Main Line from Carlisle to Gretna Jn. and between Edinburgh Waverley West and Haymarket tunnels. This latter section was deliberately put in for the benefit of US users, who, if they have visited Edinburgh, have almost certainly seen the real life line at the bottom of Princes Street Gardens.
Glossary/Explanation of Terms
Goods Trains   Freight trains
Points         Switches
Shunting       Switching
BAHN340 Network © 1995/6 Iain W. Logan
Special thanks to Bruce McCartney.
Bibliography:
BR Scottish Region Working Timetable ('W') 15th September 1952
BR ScR Sectional Appendix Section 1 East Oct 1960
The Railway to Langholm - R.B. McCartney 1991
North British Album - A.A. Maclean, Ian Allan 1974
The Waverley Route - N. Caplan, Ian Allan 1985
Border Country Branch Line Album - N. Caplan, Ian Allan 1981
Rails Across the Border - A.J. Mullay, PSL 1990
Waverley - R. Siviter, Kingfisher 1988
British Railways Past and Present - Sanders and Hodgins No.9 SE Scotland 1991/1993
Railway Junction Diagrams 1914, reprinted Ian Allan
Various OS Maps
LNER, BR and Signalling Record Society track diagrams loaned by Bruce McCartney.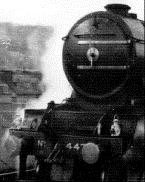 Flying Scotsman (60k)

Here's a picture taken by Bruce McCartney in 1963 - of 'Flying Scotsman' leaving Hawick for the South on an enthusiast's special. (A 'Crankex' in the trade!) Photo/Scan © 1963/96 R.B. McCartney. Used with permission.

Bill Ewart has produced four fine paintings of Waverley Route trains.

Download my updated simulation of The Waverley Route in 1952 for BAHN 383.
Have a look at A very different kind of 'Waverley' (88k)
If you would like to see the other networks I've done, please visit my Networks Page.
---

Electric Soup © I.W.Logan CMILT 1996-2007. Last updated: 20th March 2007