---
BAHN
BAHN is a fascinating 'shareware' program from Dresden, Germany, and very realistic simulations of real rail or tramway networks can be created using it. It would also be a fascinating learning aid to anyone studying rail transport operation, and is ideal for the 'armchair railway modeller'. The current version is BAHN383, although earlier layout versions back to BAHN340 will load without problems.
The latest version of BAHN is always here.
---
I regret to inform readers that Alan J Flavell passed away in late 2006. I am greatly indebted to him for his help with the BAHN program, and with this site.

It is also important that his active support for the founding principles of the World Wide Web, openness and accessibility for all, must not be forgotten.
---
Notice: 25th March 2002: Alan Flavell has informed me that many of the links within this section have become broken. I have revised some of them, but many may still report errors. If any of your files are affected, please let me know the new URL and I will endeavour to correct them.
Contents
---
more follows ...
---
What does a BAHN layout look like?
The screenshot below shows a very small fragment of my BAHN layout depicting the New York City Subway in the whole of Manhattan, and parts of Brooklyn, Queens and The Bronx! For some time, thanks to Alan Flavell, there has been an English version of BAHN.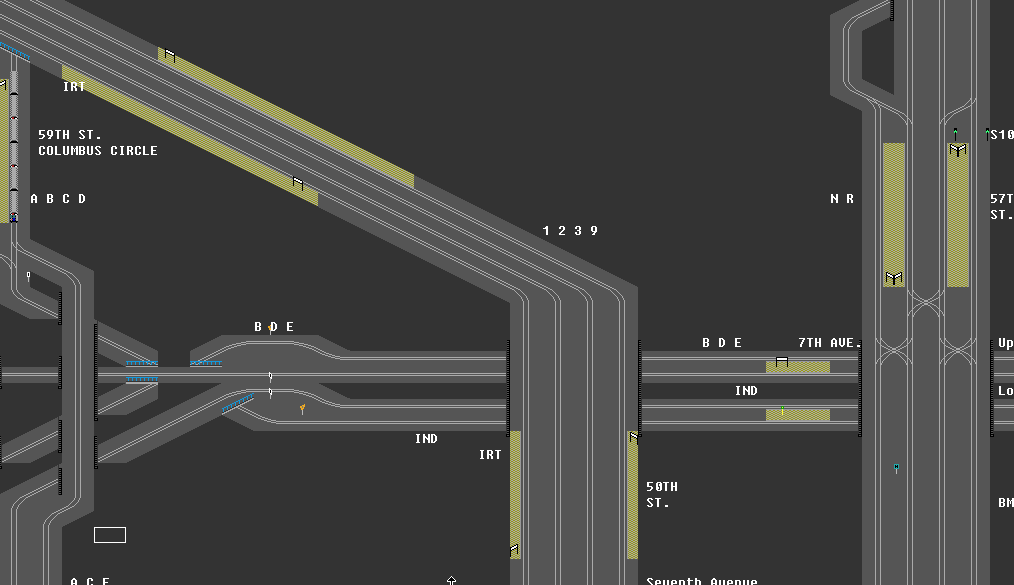 BAHN Montage - 50th Street and 7th Avenue Stations on The New York Subway.
The subway train graphics are in versions from BAHN358 onwards.
BAHN is readily available, together with English instructions, as well as my own Hints page and Networks page. There's a small group of people creating layouts for BAHN - myself among them - visit the New York City Subway Resources, the best transport site on the Web, and get them too!

I also provide a fairly complete list of BAHN resources and layouts available on the Web. Many links have become broken, however - see the notice at the head of this page.
As well as providing some notes for Electric Soup, BAHN's Author, Jan Bochmann, has now established his own website, in both German and English. It's well worth visiting for all the latest news.
---

Electric Soup © I.W.Logan CMILT 1996-2007. Last updated: 10 April 2007